It's no secret—rustic weddings are in! And while you know you want to go rustic for your big day, you also want your wedding to be as unique as you and your man. Sometimes, in the hectic rush of planning a wedding, you may hit a wall. If you're out of ideas, then you've come to the right place!  And if you are looking for a Rustic Wedding Sign, you are definitely in the right place.
We know how overwhelming wedding planning is. To make this time easier for you, we asked 19 wedding planners to what are your favorite rustic wedding ideas? The level of creativity and the wide range of responses blew us away. A big THANK YOU to all who participated! Let's dive in.
I. Valarie Falvey – Kirkbrides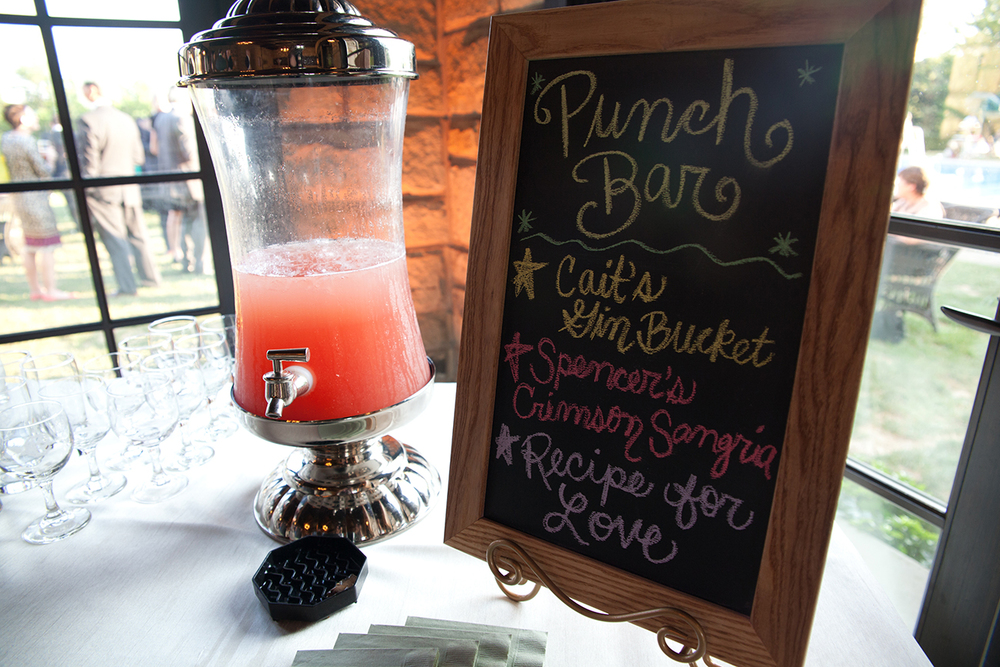 Our favorite rustic wedding ideas include chalkboards with beautiful calligraphy writing as signage, as a welcome sign for a ceremony, as a specialty drink sign at cocktail hour, and as a menu at dinner. We also use wooden farm tables as guest tables and/or accent tables (like head table), various wooden chairs, mismatched chairs at head table or throughout the reception room, and specialty wooden bars. Our ceremonies frequently see the use of a wooden/birch altar decor or chuppah decorated with flowers. –  Valarie Falvey
ABOUT THE AUTHOR
Valarie has been in the event planning business since 2002 and after three years of experience in LA and New York, she moved back to Cleveland, OH to found Kirkbrides in 2005.
CONNECT WITH VALERIE

---
II. Jennifer Hartman – Heart 2 Heart Occasions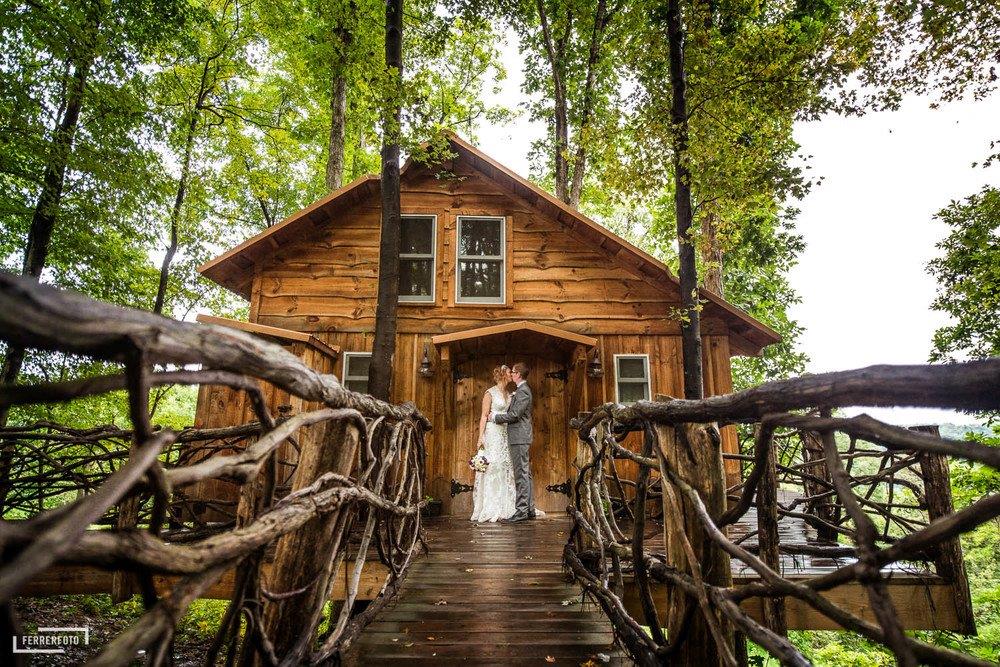 Rustic weddings radiate romance. Whether you want your wedding to be "country farm" or "old world garden", you have set an amazing scene for beautiful decor. We typically suggest picking a few key pieces and then carry them throughout your wedding. Starting with the invitations and ending with place cards. This could be chalkboards, flower garlands, vintage gardening pieces, reclaimed wood, etc. If you try and incorporate them all, it could end up looking to busy. And don't be afraid to use color, rustic doesn't have to mean monochromatic. Pops of color will only add to your beautiful décor. – Jennifer Hartman
ABOUT THE AUTHOR
Jennifer loves sharing in a couple's special day and strives to make it as unique, original, and wow-inducing as possible!
CONNECT WITH JENNIFER

---
III. Kimberly Zahnke – Consider It Done Events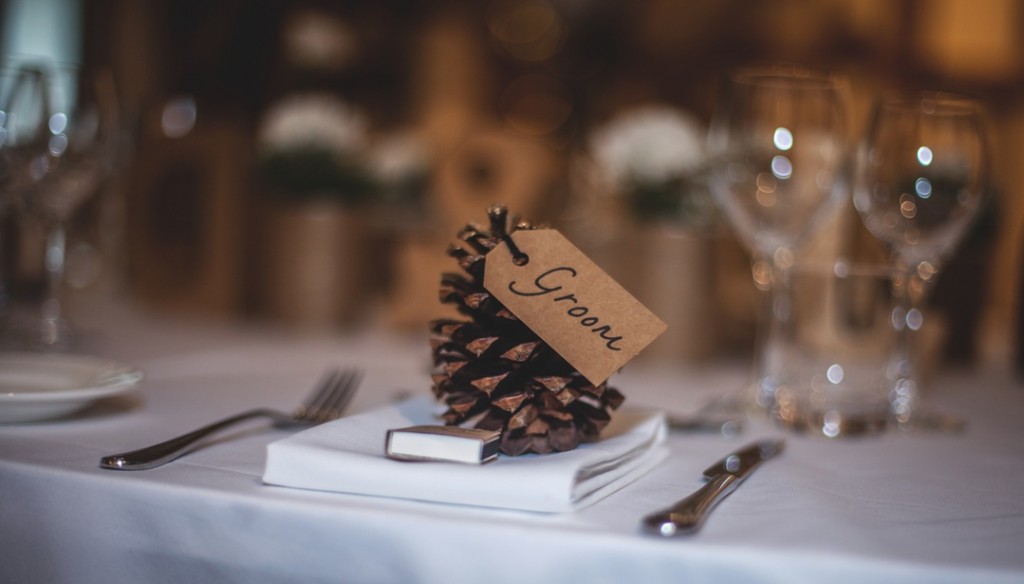 I believe in making it unique—flower petals are a great option, and brides have typically done the rose petals, but if you're having something unique like sunflowers, use them to help compliment the ceremony and reception.
Sunflower petals dropped by the flowergirls
Sunflower heads lining the aisle down the side where you would normally put a lantern
What about giving sunflower seeds as a thank you gift? What a great way to remember the wedding next year as they are blooming!
Along with all the centerpieces
I also love the ability with rustic to bring in the older, vintage pieces or even create your own. Imagine chandeliers created by brides, with everything imaginable—from hoola hoops to old wagon wheels—with lace and candles added, or even Edison lighting. – Kimberly Zahnke
ABOUT THE AUTHOR
Kimberly is the founder of Consider It Done Events and has been passionate about producing stunning events for over 20 years.
CONNECT WITH KIMBERLY

---
IV. Kimberly – Dream Weddings & Events LLC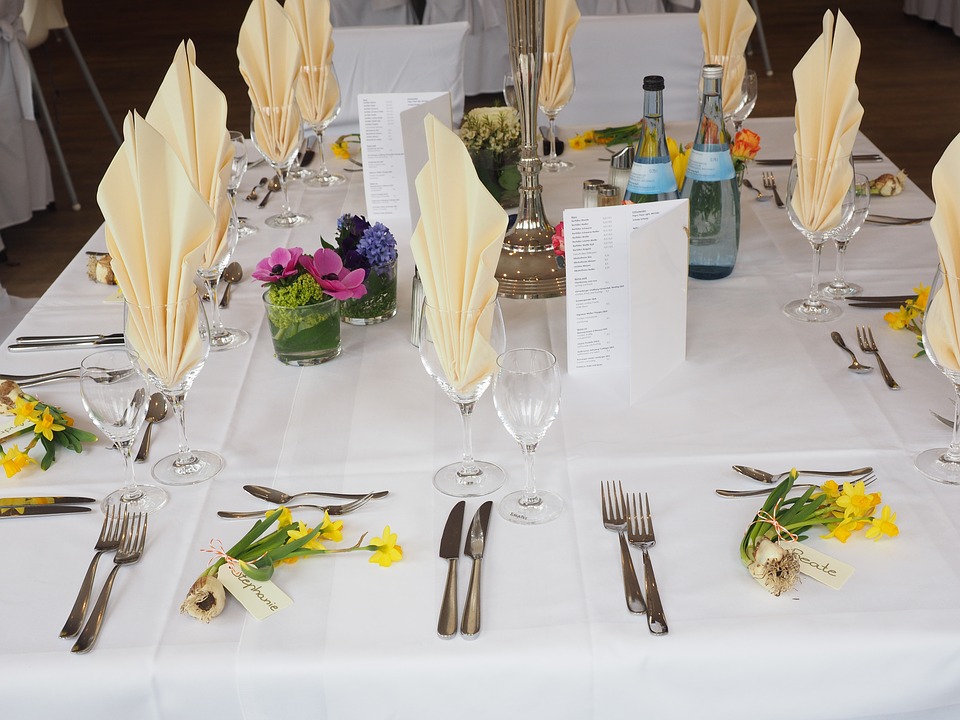 We all agree that our favorite rustic idea starts with the wedding: a barn decorated with lots of lace and burlap highlighted by simple flowers, i.e. daisies or mini sunflowers. Lighting is dim, lit by hurricane lights and oil lanterns. Cocktail hour: a signature cocktail served in mason jars. Reception: old fashioned barbecue, all taking place outdoors in a meadow. – Kimberly
ABOUT THE AUTHOR
Kimberly is a wedding planner at Dream Weddings & Events in Cleveland, OH. She specializes in making your unique vision come through.

CONNECT WITH KIMBERLY

---
V. Jennifer Zinkan – Elegantz Eventz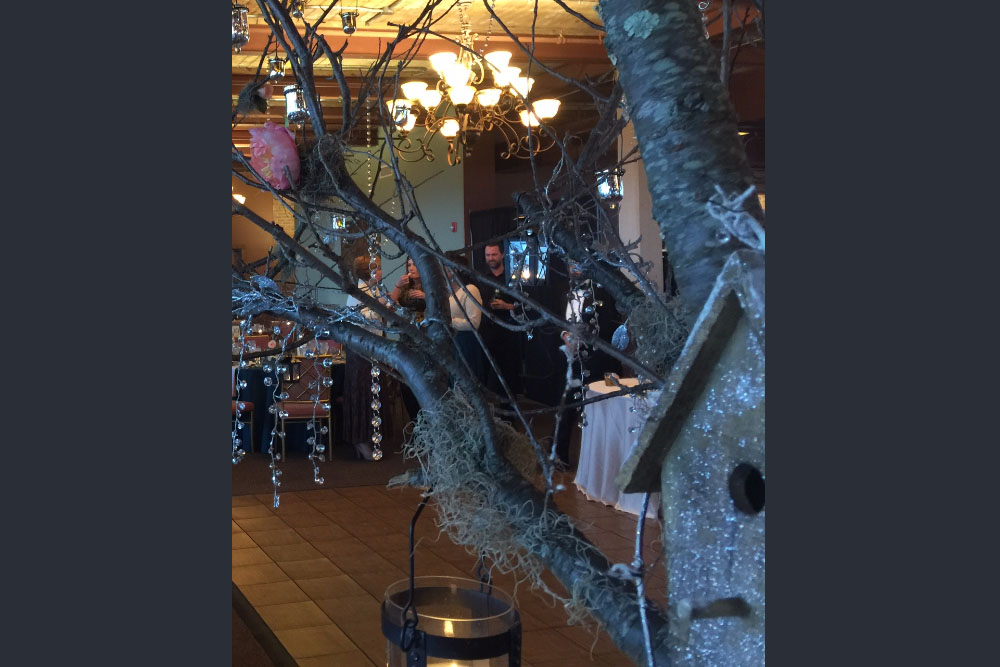 Rustic weddings allow for so much personalization by the bride and groom.  We recently repurposed a dead 15′ tree by cutting it down lengthwise leaving flat sides to tie up to a pillar.  We used the two tree halves on the two pillars to create an archway. We hung candles from the branches and some random roses in the tree. Guests walked through the archway onto the dance floor. This gave the whole night the magical feeling of being in a forest! – Jennifer Zinkan
ABOUT THE AUTHOR
Jennifer is a wedding planner at Elegant Events. She loves creating extraordinary events out of seemingly ordinary spaces.
CONNECT WITH JENNIFER

---
VI. Paula – Posh Parties by Paula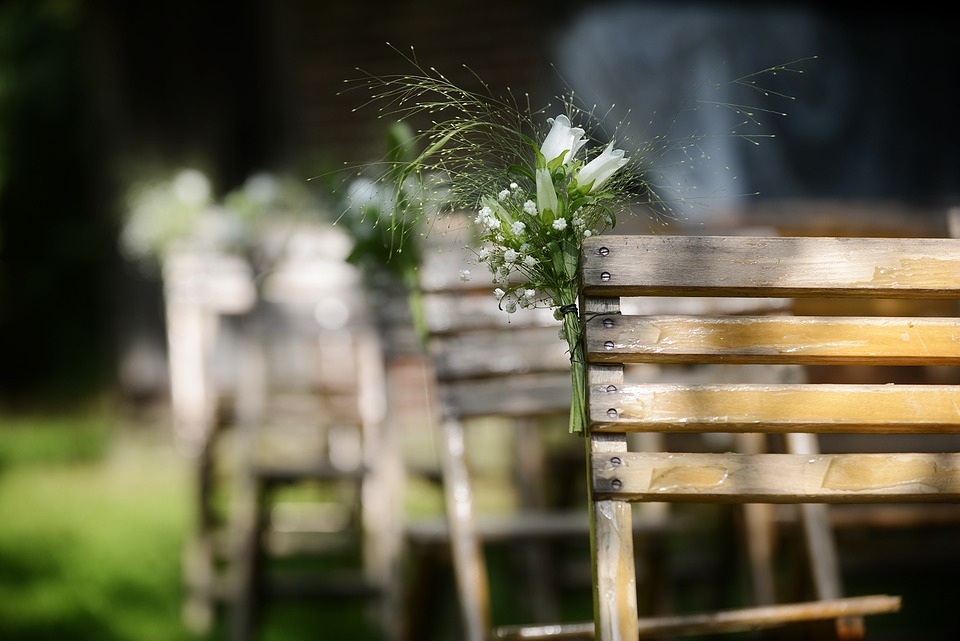 Brides going for an earthy organic style might use moss covered signs, twine covered wine bottles, wooden signs, or even chalkboards as decorations in the venue and on tables. The possibilities are endless when planning your rustic wedding.

A rustic wedding may be one of the easier weddings to plan for the DIY person or anyone with a tight wedding budget. A simple tent or pavilion can serve as an outdoor space for a reception. Local crafting stores also carry an abundance of rustic-themed wedding decorations to make your wedding complete. If you feel like you just don't have the time to plan, shop, and create your dream wedding, you can hire an event planner such as myself—Posh Parties by Paula—to make your dream wedding come true! – Paula
ABOUT THE AUTHOR
Paula's passion for event planning started back when she was planning her kid's birthday parties. Fast forward to today and she has her own event designing business!
CONNECT WITH PAULA

---
VII. Brandi Hamerstone – All Events Planned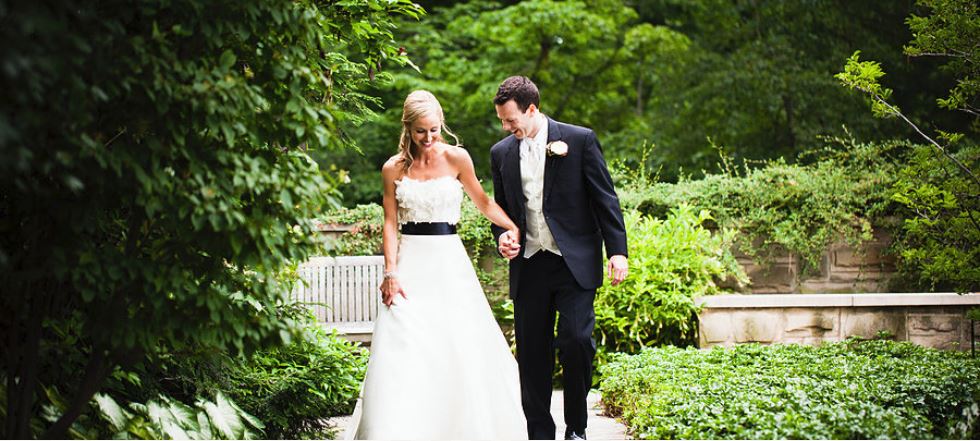 Truly the key to a good rustic wedding is the backdrop, so starting with a barn, vineyard or loft type space will really be instrumental in doing enough for you that you don't have to invest in massive amounts of décor and setup. A rustic wedding is a simpler concept anyhow. Using older items, recycled items, and vintage pieces plays to the theme as well. The idea is to make the rustic concept easy to create, simple to design, and functional for your guests as well. It doesn't always have to be just burlap and lace. There are elements to rustic that are more romantic and vintage, creating an updated concept behind the term "rustic".

Here are my favorite rustic wedding venues: Walden, Crown Point Ecology Center, Crystal Brook Farms, and Thorncreek Winery. -Brandi Hammerstone
ABOUT THE AUTHOR
Brandi has been planning weddings since 2000. And before she was planning weddings she was designing elegant corporate events for Stan Hywet hall & Gardens, hotels, and more!
CONNECT WITH BRANDI

---
VIII. Kimberly Lehman – Love, Laughter, & Elegance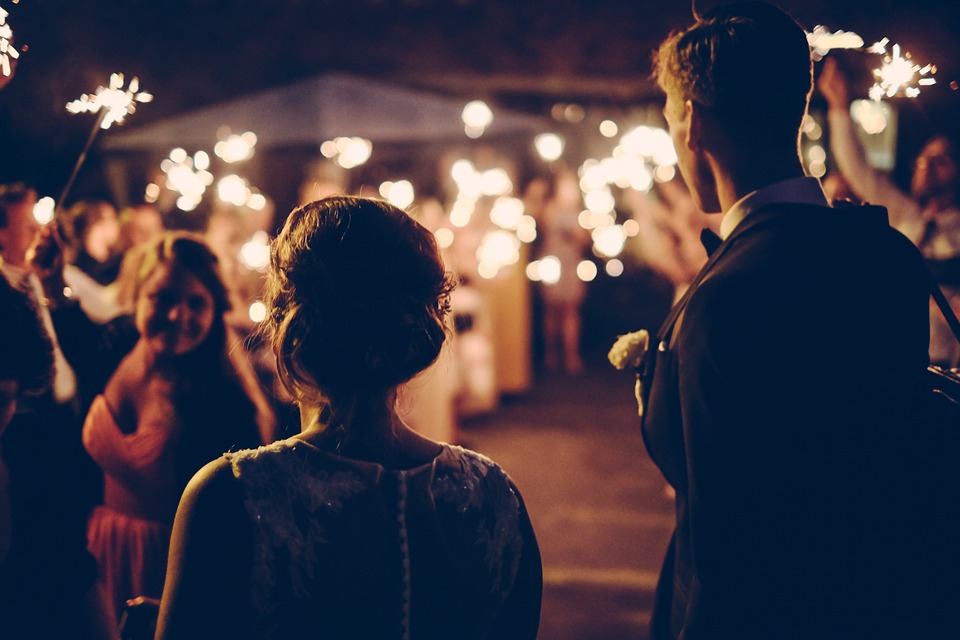 I have been planning weddings and events for over 17 years. I have seen a lot of great ideas. I do like the rustic look for weddings. It's been an ongoing trend for a few years now. So I see a lot of the same ideas, and am always looking for new ones to share with my brides.

Some of my favorites include: soft fabrics to smooth out the rough edges of furniture, and decorations. I love pastels, and touches of burlap and lace. I like lots of small personal touches, family photos, childhood favorite candies, and desserts. Good home-style cooking is a must! BBQ, corn on the cob, mashed potatoes (a mashed potato bar is a great idea!), and fresh home-baked bread or rolls. A lot of fresh garden veggies and fruits are always nice. And sweet tea and lemonade are the drinks of the day. – Kimberly Lehman
ABOUT THE AUTHOR
Kimberly lives by the philosophy that her services require passion, dedication, and attention to every little detail and she is ready to deliver!
CONNECT WITH KIMBERLY

---
IX. Jenny Wehr – Willows By Wehr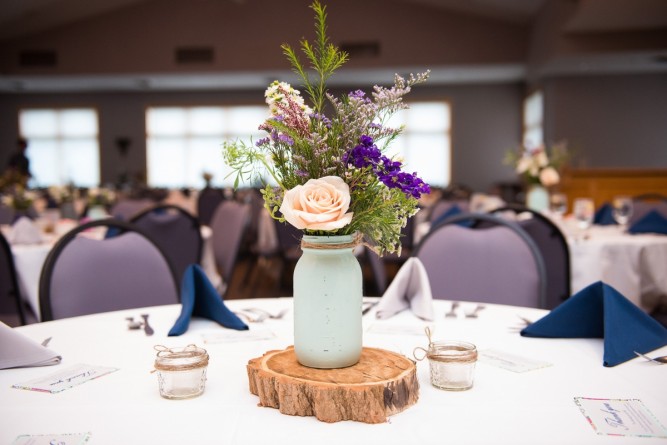 My typical rustic weddings include lots of burlap, covered mason jars, candles, wild flowers, and baby's breath. The mason jars hang from tree branches and ceilings and are gathered on to table tops. We also use many doilies and lace table cloths. – Jenny Wehr
Beverage glasses for the guests usually are pint mason jars as well.
ABOUT THE AUTHOR
Jenny has 28 years of professional floral design and loves using flowers to make a bride's day enchanting.
CONNECT WITH JENNY

---
X. Audrey Mattevi – AriE Events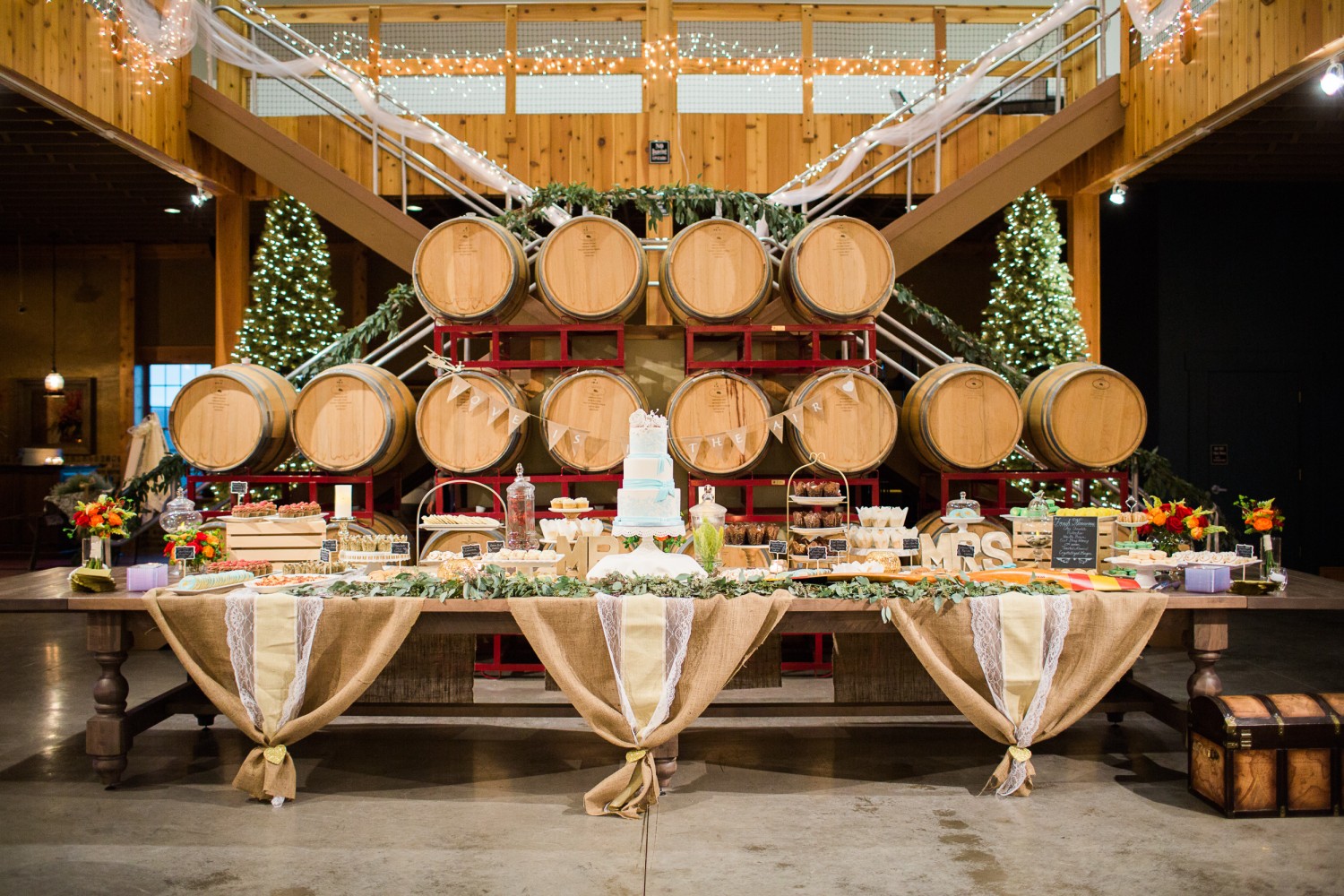 We operate out of a rural area so rustic is easy to come by here. Our favorite rustic touches include burlap table runners, mason jar bar-ware, and sunflower/daisy floral arrangements. If brides and grooms are really looking for that rustic feel, we suggest tree stump cake stands, homemade lemonade, and a barn-type venue. (It seems like a new venue or two pop up every summer—we love it!) Knee-length dresses and braids tend to convey that rustic look, and dancing under the stars rounds out a rustic wedding perfectly! – Audrey Mattevi
ABOUT THE AUTHOR
Audrey has experience in all areas of event planning including non-profit events, private parties, and weddings, but her favorite part is the finished product!
CONNECT WITH AUDREY

---
XI. Tiffany Dziak – A Charming Fete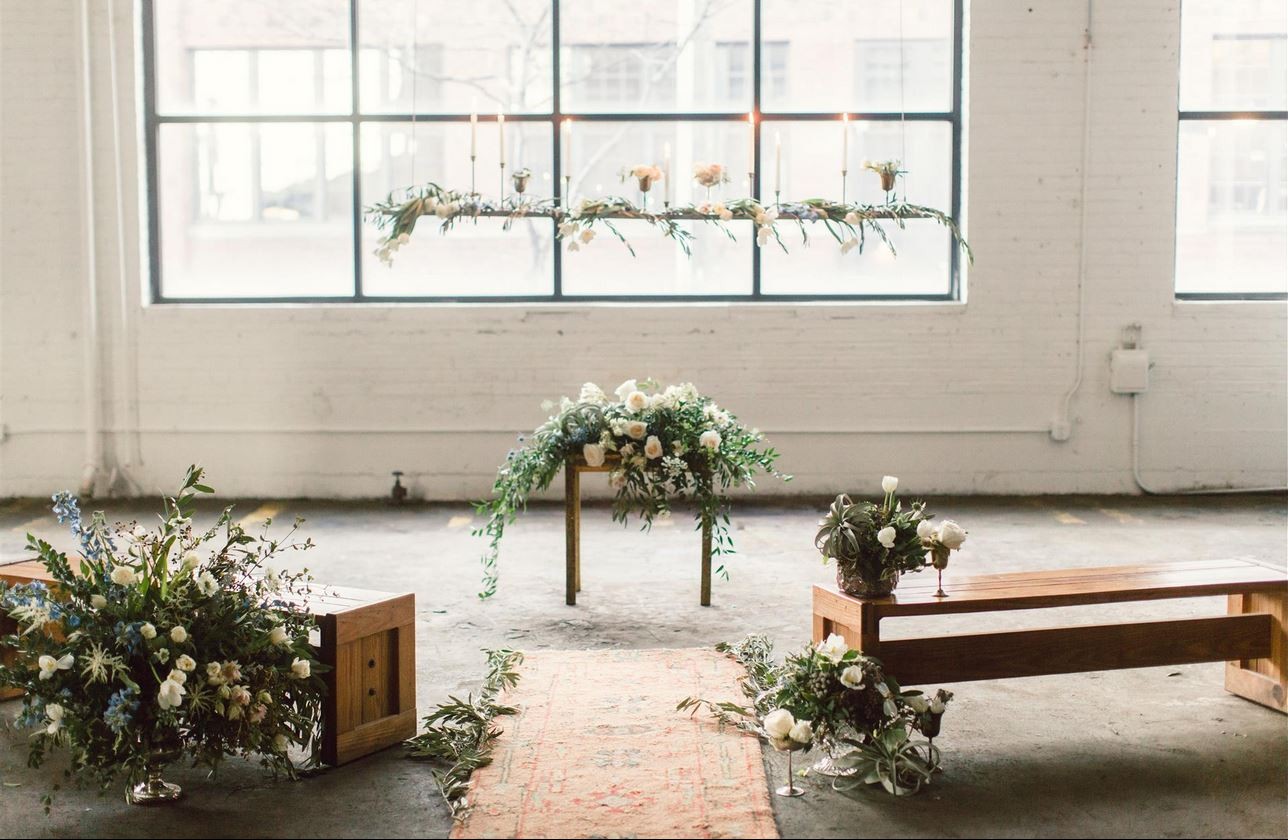 Being able to personalize any wedding is our goal. We want our clients' guests to feel like their big day totally represented the couple tying the knot.

Finding trendy or unique decor pieces to use throughout the ceremony and reception space is key. It's what we aim to do. We want every wedding we're a part of to be different and unlike any others we've previously done. That's the fun part of planning that helps personalize a wedding to the couple we're working with. For a rustic wedding, we often use vintage mirrors, ladders, or window panes to incorporate into a seating chart or use to hang escort cards. Borrow Rentals is one of our go to vendors that offer a variety of unique vintage eclectic items in their inventory.

A creative and fun way to serve drinks for a rustic theme is a self-serve bar with beer(s) on tap created from a wood pallet or offering cool refreshing cocktails in a clawfoot tub for your guests. This logistically makes getting a cocktail easier for your guests and eliminates an overcrowded bar.

I think when we say "rustic" people automatically think barn, antique, vintage, maybe even "grungy", but adding an elegant, graceful or chic touch to a rustic wedding makes for a beautiful combination. – Tiffany Dziak
ABOUT THE AUTHOR
Tiffany specializes in the design side of wedding planning. Her taste and style learned at Bowling Green University are what set her apart!
CONNECT WITH TIFFANY

---
XII. Terri Gallagher – Terri Gallagher Weddings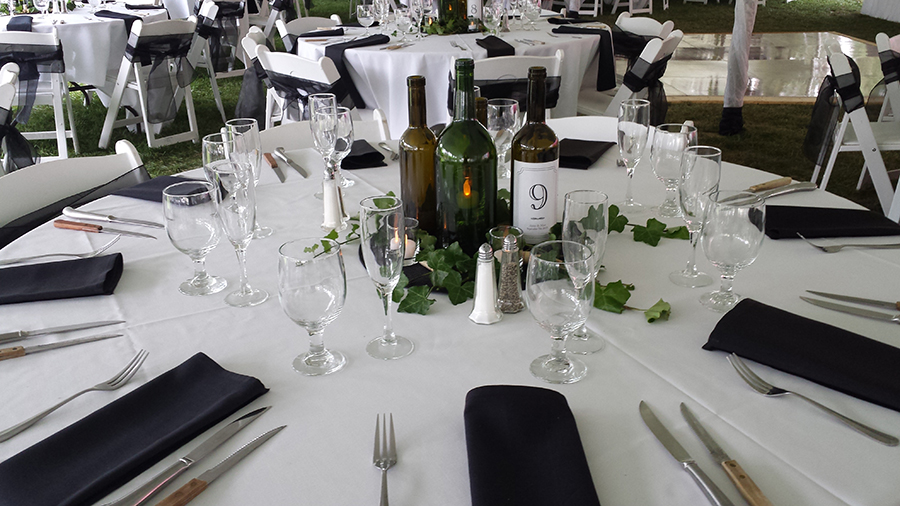 For Rustic weddings, I prefer not having everything match. I like to use more of an eclectic collection of vintage or vintage looking items:

Assorted perfume bottles and old clear bottles with a single flower or bunch of herbs/greenery grouped together for guest table centerpieces, with votive candles among them for ambiance.

Parchment paper painted with white paint to show where the dinner plate and flatware should go.

Old wooden Ladders placed behind the wedding party with assorted votive cups with candles & clear glass bottles and jars of different flowers, herbs & greenery.

Homemade jams or preserves in clear jelly jars, with a message from the bride & groom, as a guest favor.

Love the cupcakes/cake pops/ cookies/cake, assortment in lieu of a formal wedding cake.

I prefer 3 different themed table decor designs for the guest tables. It truly gives the room more dimensions and creates more visual interest. – Terri Gallagher
ABOUT THE AUTHOR
Terri brings over 35 years of experience to the weddings she plans, specializing in producing stressless wedding days.
CONNECT WITH TERRI

---
XIII. Jason Crocker – Jason Thomas Crocker Photography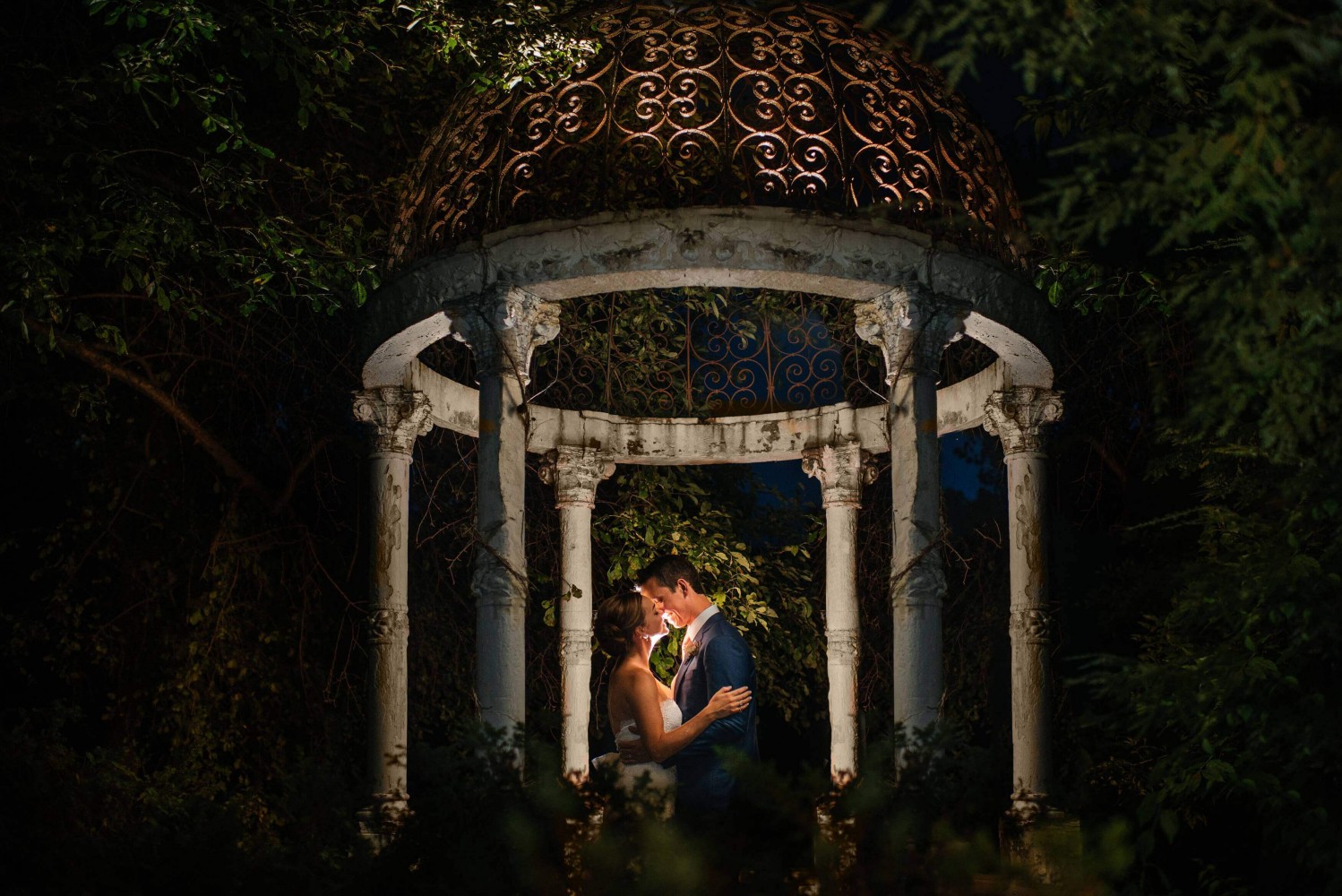 I feel like the rustic weddings that are executed best really pay attention to the details throughout the entire day to create a uniform theme such as mason jars, pies instead of cakes, string lights, chalk signs, etc.! – Jason Crocker
ABOUT THE AUTHOR
Jason is all about capturing the joy on your wedding day. Jason not only brings awesome photography to the table but a fun experience as well.
CONNECT WITH JASON

---
XIV. Riki Schmigel – A Taste of Excellence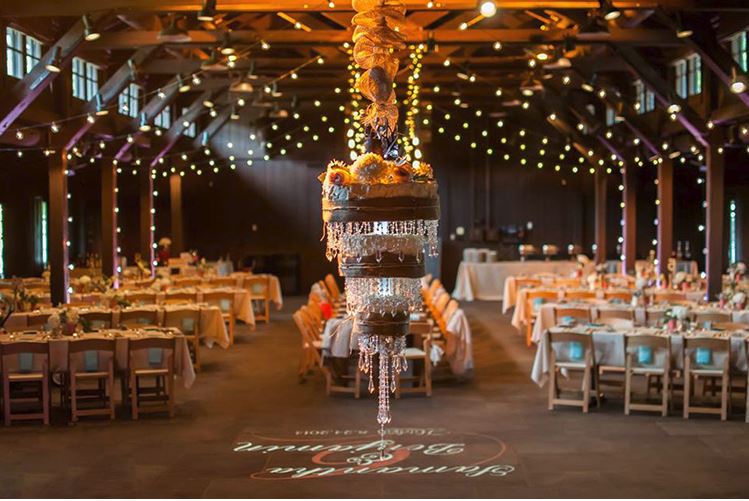 We have seen a variety of "Rustic" weddings over the past years, and one thing the team has noticed is that this allows for a lot of individuality. One of our favorite trends is the mixture of textures and colors including floral print napkins and sequin linens. Food is a major component of all weddings, and this is where we really like to focus on creating a menu that reflects the rustic feeling the bride and groom have in mind. BBQs are a huge hit with rustic and barn-themed weddings, and you can carry those ideas throughout the night, including cocktail hour and late night snack. Why not try passed spiked apple cider cocktails and short rib skewers? We also love late night snacks, including s'more stations. – Riki Schmigel
ABOUT THE AUTHOR
Riki is passionate about event planning and loves seeing an event through from conception to tear down. She has 10 years of event planning experience in all aspects of the business!
CONNECT WITH RIKI

---
XV. Sarah Johnson – Sarah Renee Studios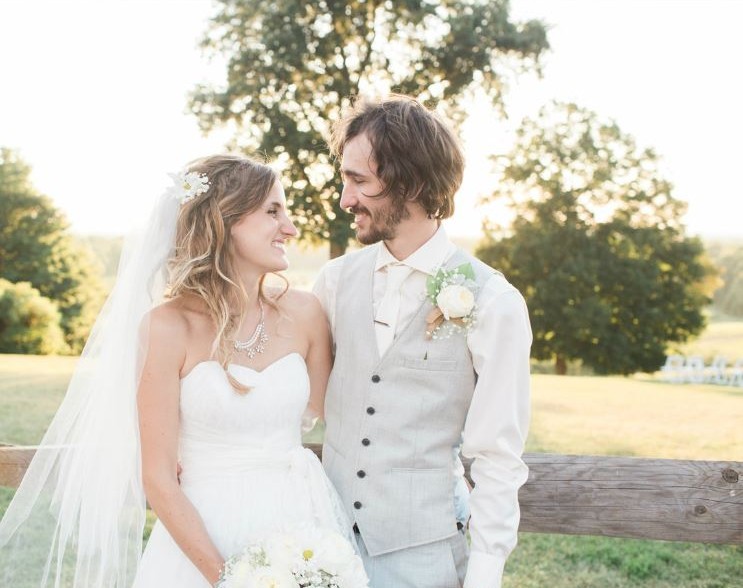 When planning a rustic wedding there are so many different avenues you can take to achieve that familiar rustic look. It is a common misconception that to have a rustic wedding, you have to have a country-themed wedding as well. Skip the burlap and sunflowers and incorporate some of these ideas to ensure you have a truly elegant rustic wedding.

Bridesmaid Dresses: Pockets are a must! Your bridesmaids will thank you over and over for having a dress with pockets. They can also make for really cute photos as well.


Decor: Bring the out in! Think skinny branches for centerpieces with twinkle lights, or tree slivers for chargers, or for the centerpiece. Old vintage gold frames, Mason Jars converted into hanging lights, pretty green moss, and simple baby's breath floral pieces, a wedding arch made from branches, old milk jugs, wheelbarrows, and milk crates! All amazing décor pieces to incorporate to make your rustic wedding really stand out!

Venue: The Venue for a rustic wedding is always the most important to really show off your décor and make an impactful statement. In Cleveland and Akron, there are so many amazing venues that can really give you that rustic barn feel. Try Columbia Ballroom, Brookside Farms, The Barn at the Meadows, and The Piggery at Anna Dean Farm, all amazing venues that will really wow your guests.

Favors: I really love creative favors that go against the grain and are outside of the box. My favorite favor was little packets of seeds that were placed into a wheelbarrow for guests. Chocolates will be gone but guests can remember your wedding each day they see the beautiful flowers growing.

Lastly, include some fun things for your guests to do. Bonfires and s'mores make a great ending to the night. Sweet Water Caravan mobile bar service is also an amazing addition to any rustic barn wedding. – Sarah Johnson
ABOUT THE AUTHOR
Sarah Renee loves capturing organic moments between couples on their wedding day. She does it so well that Wedding Wire has named her a Top Photographer in the Cleveland, OH area for the last 3 years.
CONNECT WITH SARAH

---
XVI. Elizabeth Bundy – It's Your Party Planning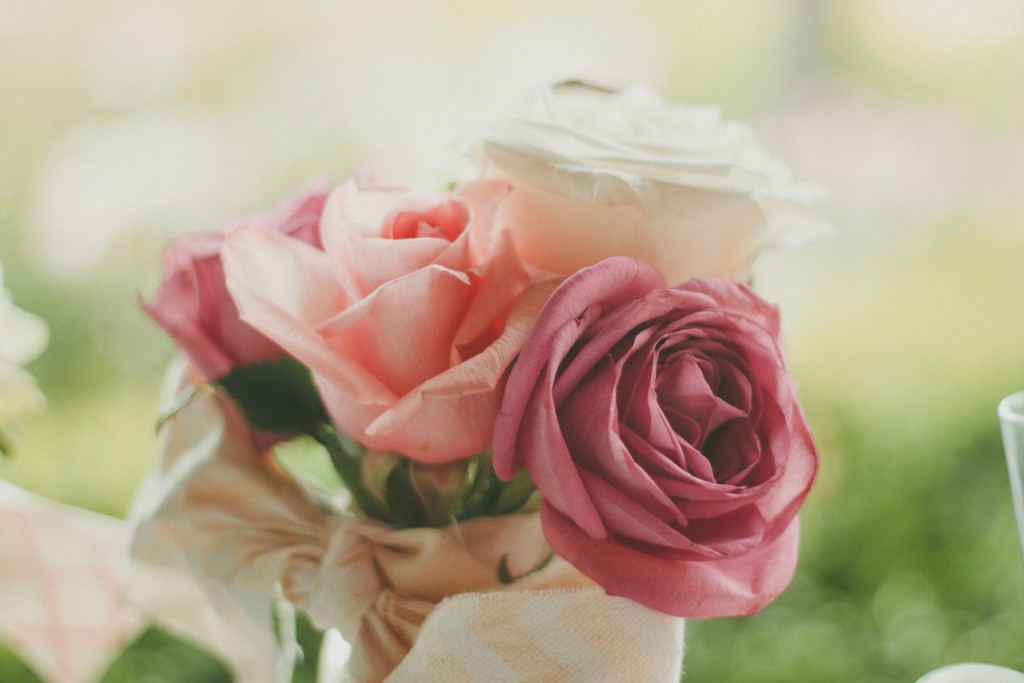 I adore mason jar escort cards, accompanied by a, "Grab your Jar & Head to the Bar!" sign. I think it perfectly sets the table for a fun-loving rustic reception. For the ceremony itself, I love burlap aisle runners adorned with rose petals- I think that the balance between the coarse, rustic fabric and the delicate petals is really beautiful!

My all-time favorite rustic wedding idea was actually from a friend's wedding (though I have since seen it on pinterest!), wherein the invitations were designed so that, when opened, an unseen & loosely tied piece of twine would pull into a tight knot. On the outside were the words "Help us tie the knot!" I loved those invites so much that I still have mine! – Elizabeth Bundy
ABOUT THE AUTHOR
From day-of wedding coordination to full-scale events, Liza and her team are dedicated to make your dream event come to fruition!
CONNECT WITH ELIZABETH

---
XVII. Crystal Wooten – Crystal Wooten Events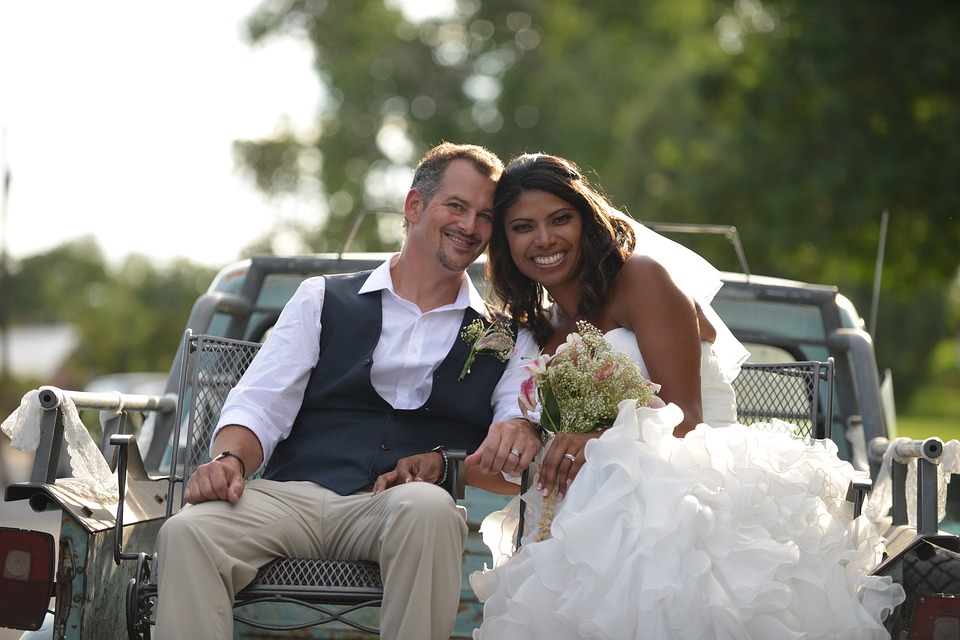 When I think of rustic weddings, I think of mason jars, burlap, wood elements, lots of candles, and baby's breath. There is something special and personal about a rustic wedding. It's romantic, highly personalized, and very intimate.

I love outdoor ceremonies lit up by twinkle lights. For the guest book, think outside of the box and go with a faux tree stump or an old wooden door or window. At the reception, try utilizing hay bales to create height on your cake or sweets table or even the serving tables. For the fall, I like to also incorporate pumpkins or apples into the decor aspect. – Crystal Wooten
ABOUT THE AUTHOR
Crystal and her team bring 18 years of event planning experience to the table. They specialize in creating a unique event for you and your party!
CONNECT WITH CRYSTAL

---
XVIII. Kathi Cannon – Cannon Events Ohio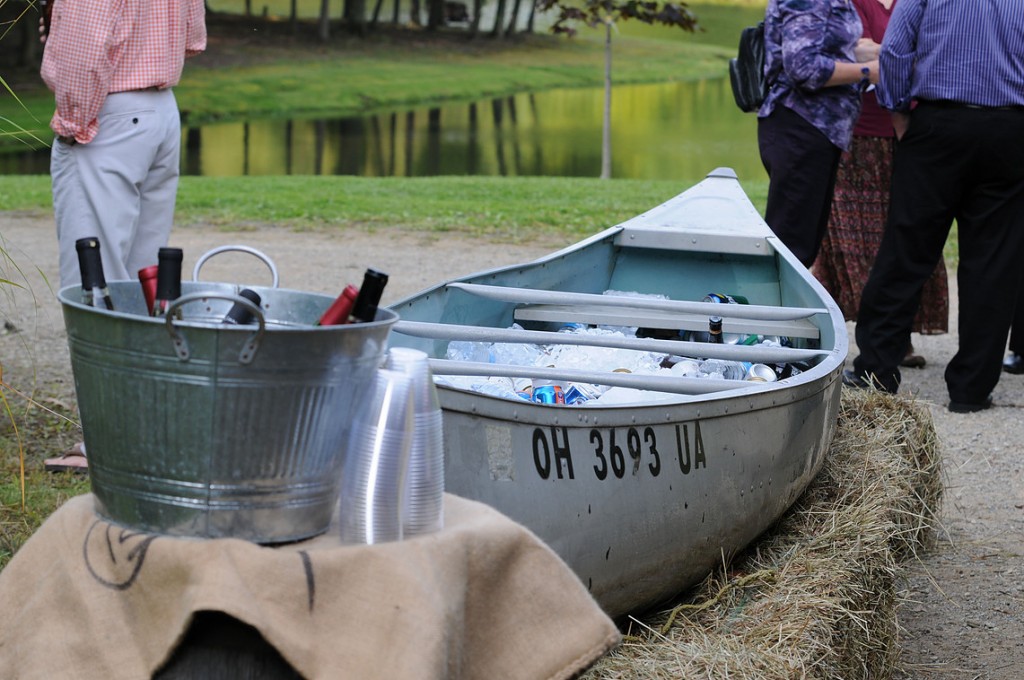 For Rustic weddings, timeless decor is amazing. Something like centerpieces of baby's breathe in mason jars or succulents in crates and soft lighting or candlelight. Simplicity is the key for rustic weddings. If you are using burlap, try something outside the box and use coffee bags or printed burlap. Above all else, make sure the overall scheme reflects you as a couple.

For food, think upscale family picnic. Take the things you like best about summer gatherings and add a twist to it. Instead of a traditional vegetable tray, use peppers as vegetable and dip holders or shot glasses with the dip in the bottom. Forgo a cake and have farmer's market pies. Or instead of a traditional stacked cake, get cake stands from family members and put your wedding cake layers on those. It will give you a feeling of family as well as a unique cake table. – Kathie Cannon
ABOUT THE AUTHOR
Kathie and Cannon Events offer beautiful, unique catering services for all types of weddings. Their priority is to work with clients, understanding their unique needs and desires.
CONNECT WITH KATHIE

---
XIX. Arielle Gavin – Wedded Perfection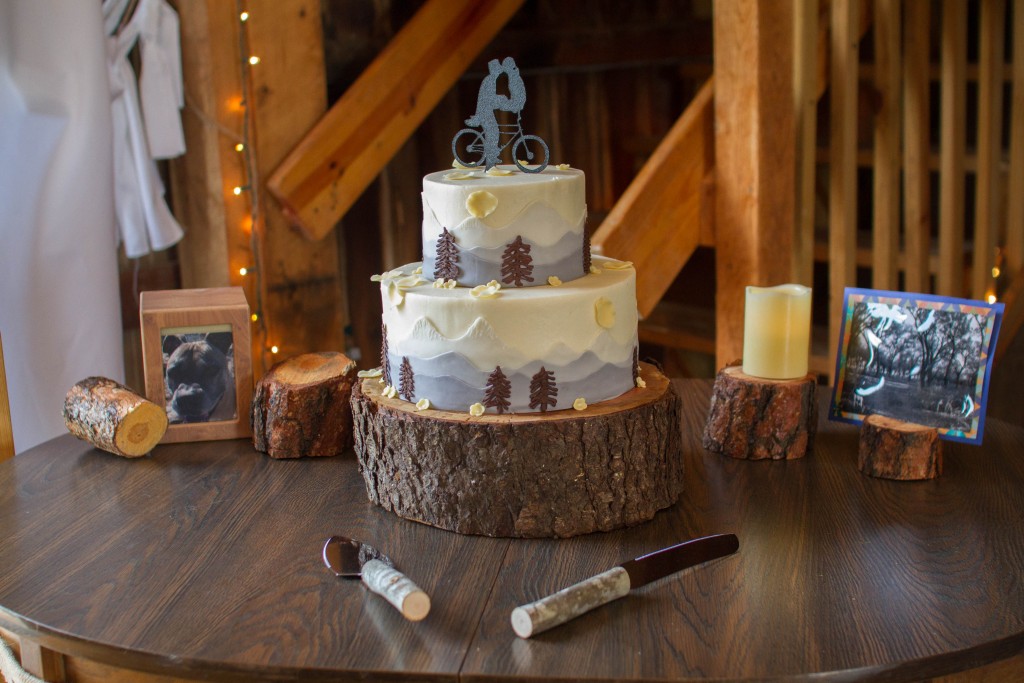 Our favorite rustic wedding is one that embraces the casual. Nothing is more fun than heavy hors d'oeuvres in lieu of a sit down meal, or even some tasty food truck options. Pair that up with an iced tea and lemonade bar with different flavorings and it gives charm to an outdoorsy event. Lots of couples also offer different yard games which keep people entertained without the need for a dance floor in a tight space like a barn for example. – Arielle Gavin
ABOUT THE AUTHOR
Arielle has a bachelors degree in event planning from the University of Central Florida. She opened Wedded a perfection in central Ohio 2013 and is working on expanding the company to take it nationwide.
CONNECT WITH ARIELLE

---